Our Mission
At My Home Properties, we are devoted to servicing our client's real estate needs by providing our available resources and specialized knowledge in marketing, listing, and selling of new and resale homes, undeveloped land, commercial and Industrial investment opportunities, particularly in Swakopmund, Namibia.
Our mission is to provide personal and professional service by holding ourselves accountable to our core values of exceptional service, building relationships, work ethics, accountability, and teamwork.
We believe in customers for life, being there for our clients throughout their journey in business and in life, to ensure when it comes to property, they receive the very best this industry has to offer.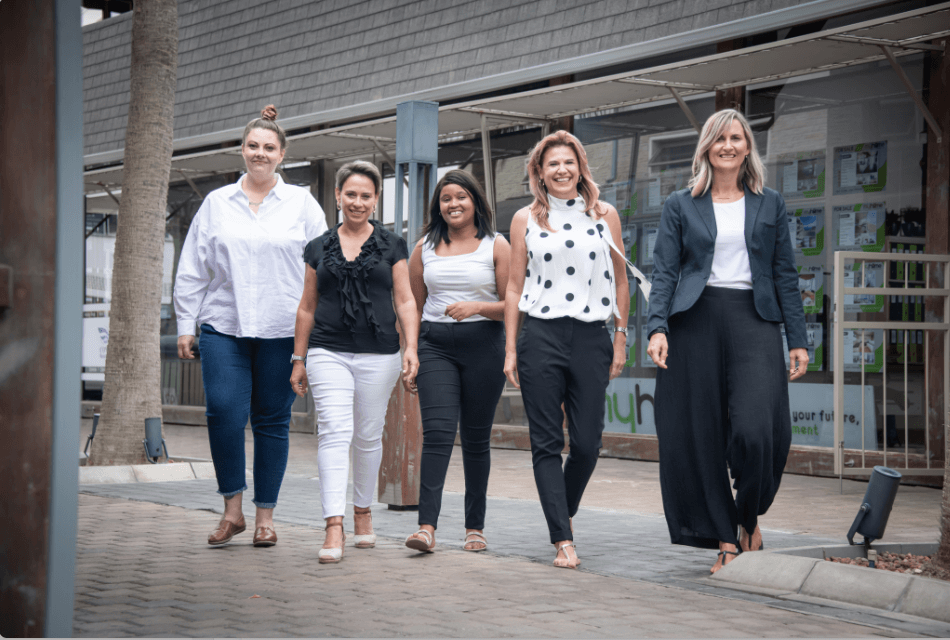 Werdi is the principal of My Home Properties. She embodies values of honesty, integrity and strives to excellence in all aspects of business. From starting off as a Legal/Conveyancing Secretary, Bond Originator and Real Estate Agent, Werdi has been in the real estate industry for over 28 years. Werdi is well known for her approachability whilst maintaining close relationships with her clients and her promise to you "Your home, your future, our commitment".
Helana is a natural leader with great foresight. She can adapt to all kinds of circumstances and she "makes it work!" Her positive & energetic enthusiasm will light up your day. Her most important word is "SERVICE". Being in the real estate industry for over 9 years, Helana knows the sales industry and her clients always come first. Being a results-driven, self-motivated and resourceful entrepreneur, she has proven her ability to develop and strengthen herself to grow in all sectors of the real estate industry and will live by our motto "Your home, your future, our commitment".
Mirja has been a successful entrepreneur for the past 20 + years which meant she has become very systems orientated and client-focused and ensures she has all the up-to-date statistics in the current marketplace. Mirja's philosophy on client service is the key to her success. She believes her clients want to work with someone who has a straight-forward, honest manner and who can give informed and knowledgeable advice. She is friendly, honest, and hard-working. She is a good listener and will work hard to get you the best results possible. Her straight-talking style with open and clear communication will give you confidence that she is someone you can trust and her actions speak louder than words. Committed to our slogan, "Your home, your future, our commitment."
Neels is part of My Home Properties as an Agent and adds value to the business through his Construction Company, My Home Developments. Neels has been with the FMCG Industry for 16 years, gaining experience in market research, pricing, product development, purchasing, advertising and brand awareness. Becoming part of the building industry from 2009 played an integral part in his role today as an agent & building contractor. Neels is committed to maintaining absolute integrity and credibility in all business dealings. He has high levels of professionalism and expertise for all his clients. He is always supportive, and transparent, and creates and maintains long-term partnerships that add to people's life, supporting our motto " Your home, your future, our commitment".
Areas In Which We Operate
Central Swakopmund - CBD in central Swakopmund within walking distance from shopping amenities, restaurants, and the beach.


Kramersdorf Swakopmund - Kramersdorf is close to the dunes with a warmer climate and sunshine.


Vineta Swakopmund - Vineta neighborhood is located to the north of the town centre and extends over 3 km along the Atlantic coast and to the east it borders on the C34 road and the Tamariskia neighborhood.


Waterfront Swakopmund - Located 3.8km from the centre of town and shows of the popular Platz Am Meer mall and Luxury Apartments "The Pier".


Vogelstrand Swakopmund - Vogelstrand is a suburb of Swakopmund. The district is in the north of Swakopmund and stretches for about two kilometers along the Atlantic coast.


Ocean View Swakopmund - Close to the popular shopping Centre Ocean View Spar and walking distance to the Platz Am Meer Mall.


Mile 4 Swakopmund


Mondesa Swakopmund


Tamariskia Swakopmund